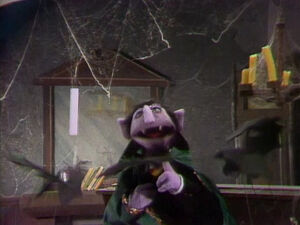 The Count counts in Cree, an Indian language.
The Count's bats are upset; he always gets to count, but the bats don't. The Count decides to let the bats count all of the Counts, while the Count counts all the bats... but there's only one Count. (EKA: Episode 0745)
Ernie and Bert: Ernie comes up with a way for him to remember to put his basketball away before he goes to sleep: he remembers with his mind, which is in his head; his head is round, and so is the basketball. His plan works the first time, but not when Bert wants to go to sleep. (First: Episode 0134)
Cartoon: A pair of miners subtract mules.
Cartoon: Big, bigger, biggest (strongmen)
Bob and the kids sort by function using things one sits on and a gumball machine.
Film: to a jazz rhythm soundtrack, the camera zooms in on flowers growing on a tree.