Sesame Street
Plot
Big Bird wants to fight noise pollution.
Air date
January 30, 1976
Season
Season 7 (1975-1976)
Sponsors
C, U, 2

This episode guide has been compiled from materials at the CTW Archives.

ⓘ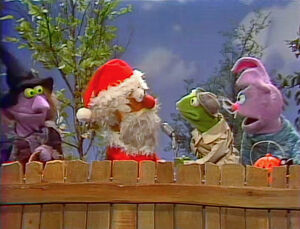 Big Bird wants to fight noise pollution, but he makes a lot of noise preparing for his anti-noise pollution meeting.
Ernie & Bert — Ernie comes from finishing his bath, and tells Bert that there's something that he forgot. Bert asks if he's washed behind his ears, his neck, and his elbows. Finally, Ernie remembers that he forgot to turn off the water in the tub -- as the water level rises. (EKA: Episode 0277)
Film: A woman repairs wires for the telephone company.
Luis and the kids sort by function using a table knife, saw and axe.
Maria names the parts of the face as Luis paints them.
Cartoon: A man carves a YES and puts it on display.
Cartoon: A man with a U under his hat starts many words.
Cartoon: A vaudeville act of two SAME people ends when one of them falls off the stage. (First: Episode 0778)