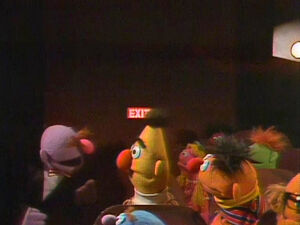 Count von Count is standing in the cold so that he can get goose bumps; he wants to count them.
Old West sketches: Five good men are needed to form a posse and catch Bad Bart, the meanest man in the West. The sheriff counts five men in the saloon, and tries to organize them. But it turns out that there are only four good men -- one of them is Bad Bart! (EKA: Episode 0600)
Ernie and Bert: At the theater, Ernie makes some loud noises while he eats his peanuts, opens his candy bar, and drinks his soda. Bert loses his temper and shouts at Ernie to be quiet, at which point the usher enters and throws Bert out. (First: Episode 0536)
Animation: A red ball with dots tries to join a group of red balls with black stripes.
Cartoon: Todo el mundo necesita agua (Animator: Fred Calvert)
Cartoon: A derby-hatted man identifies animal sounds, ending with a tractor.
Film: David narrates some films showing the homes of animals.
Ad blocker interference detected!
Wikia is a free-to-use site that makes money from advertising. We have a modified experience for viewers using ad blockers

Wikia is not accessible if you've made further modifications. Remove the custom ad blocker rule(s) and the page will load as expected.