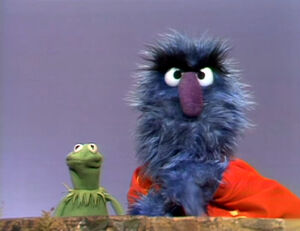 Herry Monster asks the children at home to do some exercises with him such as eyebrow movement, touching toes with fingers and running in place. (EKA: Episode 0808)
Roosevelt Franklin demonstrates here and there by having his pupils move around from place to place.
Cookie Monster encounters a green napkin. Every time he squeezes the napkin, a new number appears, allowing Cookie to count up to 20. This creeps him out, but what's even more creepy is when Kermit shows up inside the napkin at the end of the bit -- he's also green, after all. (EKA: Episode 0797)
Gordon and Big Bird discuss with several children the basic things people need to live a comfortable life.