Ad blocker interference detected!
Wikia is a free-to-use site that makes money from advertising. We have a modified experience for viewers using ad blockers

Wikia is not accessible if you've made further modifications. Remove the custom ad blocker rule(s) and the page will load as expected.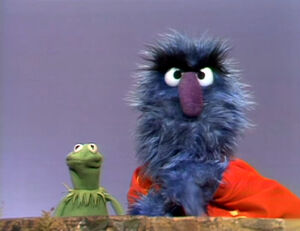 Herry Monster asks the children at home to do some exercises with him such as eyebrow movement, touching toes with fingers and running in place. (EKA: Episode 0808)
Cookie Monster encounters a green napkin. Every time he squeezes the napkin, a new number appears, allowing Cookie to count up to twenty. This creeps him out, but what's even more creepy is when Kermit shows up inside the napkin at the end of the bit -- he's also green, after all. (EKA: Episode 0797)
Gordon and Big Bird discuss with several children the basic things people need to live a comfortable life.
Animation: Drawing a chicken (child V/O in English and Spanish)
Film: African children play in a village, and in a modern playground. (EKA: Episode 0600)
Cartoon: A man has a "J" under his hat, and lists the various names and things that start with the letter "J" to another man. (EKA: Episode 0231)
Cartoon: Offscreen voices try to guess what a line turns into. The line becomes a picture of a kite, but a piece breaks off and turns the picture into a fish. (EKA: Episode 0297)
Animation: A lollipop finds its place next to another lollipop.
Cartoon: A dog pulls its master, who keeps begging "STOP!" until they reach the word STOP.