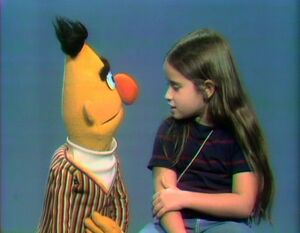 Oscar the Grouch is unhappy; a Muppet hired to shovel snow is being very nice to him.
A kid insists that the letter that he drew in the snow is the letter H, but it's really the letter A.
Cartoon: A horse tells his rider that he's going to fall into pieces. He does, and the rider puts him back together. (EKA: Episode 0810)
Cartoon: A female voice sings about the seasons as a boy experiences them. (EKA: Episode 0276)
Film: a segment about kittens, with kid voiceovers in English and Spanish. (EKA: Episode 0830)
Cartoon: Fisherman Jones demonstrates in, on, and under with his boat and a giant "fishie".
Cartoon: A rabbit crosses the STREET, and almost gets run over. (EKA: Episode 0814)
Ad blocker interference detected!
Wikia is a free-to-use site that makes money from advertising. We have a modified experience for viewers using ad blockers

Wikia is not accessible if you've made further modifications. Remove the custom ad blocker rule(s) and the page will load as expected.