Ad blocker interference detected!
Wikia is a free-to-use site that makes money from advertising. We have a modified experience for viewers using ad blockers

Wikia is not accessible if you've made further modifications. Remove the custom ad blocker rule(s) and the page will load as expected.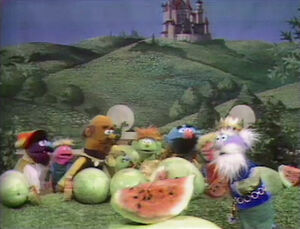 Ernie and Bert: Everything is getting wet, because it's raining and a window is stuck open. But Ernie explains that he can't fix it now because he'd get wet in all that rain. When the rain stops, he explains to Bert that since it's not raining anymore, nothing's getting wet, and there's no reason to fix it. (EKA: Episode 0344)
Cartoon: What if a mouse and an elephant switched bodies? (EKA: Episode 0343)
Film: A girl named Jennifer visits family friend Mrs. Wilson in the country, and together they pick food from her garden. (First: Episode 0021)
Big Bird imitates things that don't make sounds, such as snow or a pillow.
Cartoon: A girl takes the word YO away from a boy. He has an extra in his pocket.
Susan sorts using some winter equipment and a football.