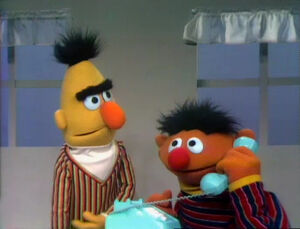 Big Bird is ready for the snow, because he's planned everything that he would need.
Oscar the Grouch doesn't realize that by scattering ashes on the snow he's making walking a lot easier. He thinks he's making his side of the street look dirty and trashy.
Maria explains to Big Bird how a tape recorder works. He records the alphabet but misses a few letters. He remembers when Maria plays the tape back.
Big Bird gets a lot of the Kids to help shovel snow.
Ernie & Bert — Ernie answers the telephone. Bert overhears the conversation, which involves a baseball game, a rainy day, and a gorilla stealing a baloney sandwich. When Bert asks who just called, Ernie says it was a wrong number. (EKA: Episode 0667)
Cartoon: Numbers are counted in a parade, interrupted by people and things.
Cartoon: A girl uses her paint-by-the-numbers set to find an elephant in her picture. (EKA: Episode 0803)
Cartoon: A troll draws different faces on herself in front of a mirror.
Film: A mailman on horseback delivers mail in the Appalachian mountains of Kentucky. (EKA: Episode 0666)
Animation: Termites work.
Film: Mr. and Mrs. Snow (snowmen) talk about bottom, middle, head, and other body parts and clothing as their parts are put together. (EKA: Episode 0277)
Cartoon: An elephant and a bear try to cross a bridge to deliver their packages, but they're in each other's way.