Ad blocker interference detected!
Wikia is a free-to-use site that makes money from advertising. We have a modified experience for viewers using ad blockers

Wikia is not accessible if you've made further modifications. Remove the custom ad blocker rule(s) and the page will load as expected.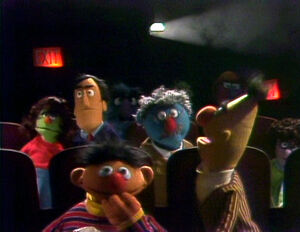 Count von Count: The Count hires Ernie to answer his phone so that he won't be bothered with calls while he is counting. However, when the phone rings, the Count wants to count the rings, and won't let Ernie pick up the phone until it's too late. "I told you it wasn't going to be easy," the Count explains. (EKA: Episode 0746)
Ernie and Bert: Ernie gets emotional during a movie: first he's sad, then scared, then happy. His reactions bother the other moviegoers, and the scene ends in chaos. (EKA: Episode 0666)
Cartoon: A man explains that "G" is for giggle, but his giggling gets out of control. (EKA: Episode 0305)
Film: Some kids watch a silent film featuring a lady in a burning house. They instruct her to "go to the EXIT!" (EKA: Episode 0536)
The Count counts cold people.
Film: A boy narrates a film of cows being fed hay during winter. (EKA: Episode 0796)