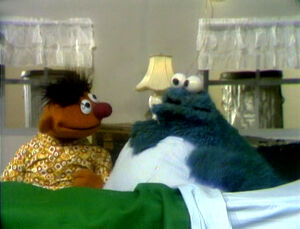 The Count counts early in the morning; his thunderclaps wake everybody up.
The Count subtracts lights by counting the streetlights that go off.
Maria, Gordon, Luis, Sam the Machine and three Kids play a rhyming game. They choose a word, and each takes a turn to rhyme that word. The first one to miss loses the round.
Gordon and the kids sort lights and a mirror.
Cartoon: A girl imagines she's a rock, which becomes a statue. (EKA: Episode 0773)
A man shows forward and backward with large sneakers. He ends up walking away with them on backward.
Film: Some kids watch a film of a man working in a greenhouse, and try to guess what his job is.
Ad blocker interference detected!
Wikia is a free-to-use site that makes money from advertising. We have a modified experience for viewers using ad blockers

Wikia is not accessible if you've made further modifications. Remove the custom ad blocker rule(s) and the page will load as expected.