Sesame Street
Plot
David snaps at Maria, Mr. Hooper and Bob have an argument, and Maria is fed up with Big Bird.
Air date
December 31, 1975 (New Year's Eve)
Season
Season 7 (1975-1976)
Sponsors
C, D, 2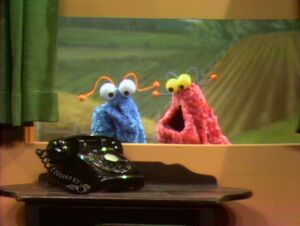 Maria brings out the garbage. Big Bird thinks that he's cooperating by explaining what Maria's doing. She resents the fact that while she does the work, Big Bird just talks.
Count von Count: As ominous music plays, the Count walks around his castle, checks out the mirror (he has no reflection), and greets his bats. The mailman (Jim Henson) comes with a bunch of letters for Count. The mailman wonders why there are so many letters. The Count says that he wrote them all himself, so he could count them... and he does! (EKA: Episode 0592)
Mr. Hooper and Bob have an argument every time one or the other uses the only hanger around to hang his coat. They decide to cooperate, and hang both their coats on one hanger.
Grover: Grover demonstrates how to use a telephone booth -- but it gets crowded when he receives a call for "Mondipoorg". (EKA: Episode 0675)
Luis walks into the Fix-It Shop to wait for telephone calls -- and finds people who want to make Dial-A-Bird calls.