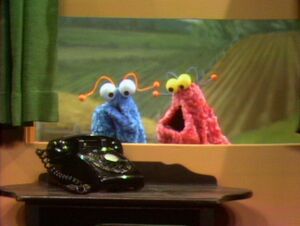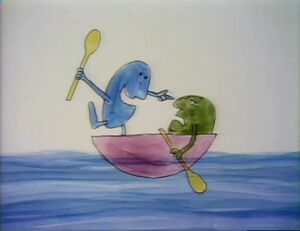 Maria brings out the garbage. Big Bird thinks that he's cooperating by explaining what Maria's doing. She resents the fact that while she does the work, Big Bird just talks.
Count von Count: As ominous music plays, the Count walks around his castle, checks out the mirror (he has no reflection), and greets his bats. The mailman (Jim Henson) comes with a bunch of letters for Count. The mailman wonders why there are so many letters. The Count says that he wrote them all himself, so he could count them... and he does! (EKA: Episode 0592)
Mr. Hooper and Bob have an argument every time one or the other uses the only hanger around to hang his coat. They decide to cooperate, and hang both their coats on one hanger.
Grover demonstrates how to use a telephone booth -- but it gets crowded when he receives a call for "Mondipoorg". (EKA: Episode 0675)
Luis walks into the Fix-It Shop to wait for telephone calls -- and finds people who want to make Dial-A-Bird calls.
Cartoon: A girl lying in bed imagines seeing cracks in the wall turning into monsters.
Cartoon: A circle becomes a clock, balloon, sun, etc.
Cartoon: Two guys row their oars in different directions, until they decide to cooperate and row together. (EKA: Episode 0543)
Oscar sorts his cans by quantity.
Cartoon: Two boys notice a D, saying it looks fat. A resonant voice (Gary Owens) informs them that it's the letter D. This leads to a jazzy story about a dog who digs for dice, wins a duck, and buys a dinosaur with a dime. Moral: "If you dig a dinosaur, drop your duck for a dime." (First: Episode 0016)