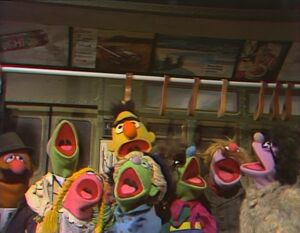 Herry Monster asks the kids at home to do simple exercises with him like moving eyebrows, touching toes with fingers, and running in place.
Herry is angry because he doesn't know how to put his new barbells together.
Cookie Monster: Cookie Monster sees styrofoam letters that spell the word FOOD. After he sounds them out, he dons a bib, sprinkles salt and pepper on the letters, and eats them ... and then eats the bib. (EKA: Episode 0723)
Big Bird tries to show his new transistor radio to everyone, but nobody's interested in hearing about it.