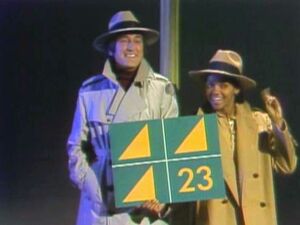 Cookie Monster surprises everybody when he shows everyone that he can handle cookies without wanting to eat them. Everyone gives him cookies, so that he can show off his new restraint. He admits that he's just teasing them, and eats all the cookies.
Some kids are playing horseshoes when Susan enters, carrying a gold shoe studded with rubies. Susan plays "One of These Things" with the different horseshoes when a Prince rides in. His horse Duke is limping. Duke is thrilled when he finds his golden horseshoe.
Grover has a hard time trying to get to Maria's home. He tries running, hopping and jumping his way there, but he fails. He finally makes it when Gordon suggests he go up the front steps and through the door.
Ad blocker interference detected!
Wikia is a free-to-use site that makes money from advertising. We have a modified experience for viewers using ad blockers

Wikia is not accessible if you've made further modifications. Remove the custom ad blocker rule(s) and the page will load as expected.