Episode 0803
Talk

0
27,086pages on
this wiki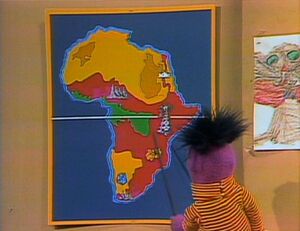 While bowling, Big Bird knocks down cans, boxes and bottles as well as pins.
An old woman lives in a number nine accompanied by nine children, nine dogs and nine cats. She has to move to a number ten when she realizes that she has ten dogs.
Ernie and Bert: Ernie has a licorice whip that he offers to share with Bert. He divides the licorice in half with a pair of scissors, but then discovers that Bert's half is longer than his. He cuts off a little bit of Bert's half, and eats it. Then he discovers that his own half is longer than Bert's, and that's not fair, so he cuts a bit off of his own, and eats it. Ernie goes back and forth, shaving off more and more, until the licorice whip is gone. (EKA: Episode 0560)
Big Bird gets a package from his aunt -- a toy airplane. He realizes that it has no motor, and compensates by making motor noises.