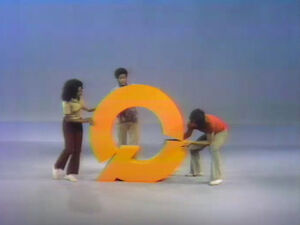 Oscar un-welcomes Buffy, a newcomer to Sesame Street, who used to be a terrible kid. Because of that, she becomes Oscar's pal.
Buffy claims that she's an Indian from the Cree Reservation in Canada. To prove it, she shows several Indian artifacts.
Oscar and Buffy suddenly end their friendship, because Buffy is being too friendly with the rest of the Street. As Oscar puts it, "No pal of mine can be nice."
Grover demonstrates high and low by having Heather scratch his back. (EKA: Episode 0787)
Film: a girl shops for a pair of earrings.
Cartoon: Two circles demonstrate "next to" and "away from".
Film: 'Fred, Get me a 20!' - Detective Fred (Joe Raposo) is sent by his boss (Danny Epstein) to locate the number 20. Throughout the office and on the streets of New York, Fred tracks down the numbers 11 through 18 in numerical order by spying his surroundings. When he finds his way to Apartment 19, he discovers it is occupied by a gorilla, who leads him directly to the elusive 20. (EKA: Episode 0277)
Buffy explains she is from the Cree Reservation in Canada, showing off some Indian artifacts and demonstrating how Indians are all over the country.
Krazy Kat proves his love for Ignatz Mouse by making a sculpture of the word "LOVE".
Buffy, Bob, Maria and the kids sort by function using sewing tools and shovel.
Cartoon: A man goes to the grocery store to buy apples, but he can't decide how many to get. This frustrates the grocer, who has to keep adding and subtracting the amount of apples on his scale. (First: Episode 0132)
Ad blocker interference detected!
Wikia is a free-to-use site that makes money from advertising. We have a modified experience for viewers using ad blockers

Wikia is not accessible if you've made further modifications. Remove the custom ad blocker rule(s) and the page will load as expected.