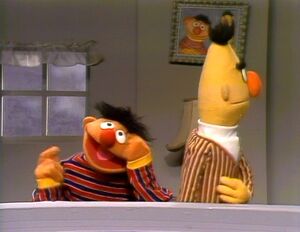 Film: Scanimate kids intro
Kermit uses his "magic finger" to draw a triangle.
Children in a movie theater tell a man on the screen not to open a door that says "DANGER" on it. He opens it, and there's an explosion. (EKA: Episode 0526)
Ernie and Bert: Ernie gets Bert to participate in a rhyming game, but Ernie ends the game just as Bert is starting to enjoy it.
Simon Soundman is going on a trip, and makes the sounds of the means of transportation that he's planning to use.
Herry tries to find a light for Maria, who's reading in the dark, and ends up causing havoc.
Cartoon: A man uses a ladder to climb up to the top of a capital L. (First: Episode 0036)
Cartoon: Boy and the UP balloons
Film: Baby pigs run in a field, and drink their mother's milk. (EKA: Episode 0666)
Ad blocker interference detected!
Wikia is a free-to-use site that makes money from advertising. We have a modified experience for viewers using ad blockers

Wikia is not accessible if you've made further modifications. Remove the custom ad blocker rule(s) and the page will load as expected.