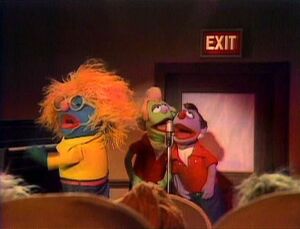 By showing a section of their bodies at a time, Big Bird and Mr. Hooper demonstrate none, some and all.
Mr. Hooper is about to throw away some old cracked plates when The Count enters. The Count breaks all the plates while counting them, and then counts the pieces.
Bob sings the "Same/Different" song.
Cartoon: Two boys notice a D, saying it looks fat. A resonant voice (Gary Owens) informs them that it's the letter D. This leads to a jazzy story about a dog who digs for dice, wins a duck, and buys a dinosaur with a dime. Moral: "If you dig a dinosaur, drop your duck for a dime." (First: Episode 0016)
Bob, Susan and the kids look for words that rhyme with "tie."
Ad blocker interference detected!
Wikia is a free-to-use site that makes money from advertising. We have a modified experience for viewers using ad blockers

Wikia is not accessible if you've made further modifications. Remove the custom ad blocker rule(s) and the page will load as expected.