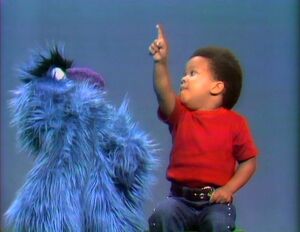 Big Bird is watching Hooper's Store for David. Suddenly, he realizes that the store has no bird appeal. The first thing he does to attract birds to the store is to throw excelsior all over the floor.
Big Bird has turned the store into a birdhouse, with nests and birdhouses everywhere. He's very pleased, but Luis tells him to move it somewhere else before David comes back.
Big Bird doesn't know what to do with the nests and birdhouses, and Luis advises him to give them to someone who would really appreciate them. Big Bird decides to give them to the pet store.
A Muppet named Mr. Fussbudget accuses David of shortchanging him after he bought an ice cream soda. He then realizes that David could have made an honest mistake.
Grover the Assistant: Kermit has Grover help him demonstrate up and down by having Grover climb UP a sky-high flight of stairs -- while Kermit takes the elevator to the top. Exhausted, Grover faints and rolls DOWN the staircase. (EKA: Episode 0693)
Ad blocker interference detected!
Wikia is a free-to-use site that makes money from advertising. We have a modified experience for viewers using ad blockers

Wikia is not accessible if you've made further modifications. Remove the custom ad blocker rule(s) and the page will load as expected.