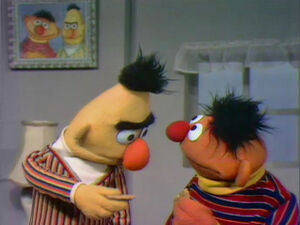 Big Bird overturns a box of toys, and later picks them up twice -- once in slow motion, and then very fast.
Guy Smiley hosts "Dialing for Prizes". A contestant guesses the word "fur", and gets a group of furry monsters as a prize. (EKA: Episode 0666)
Grover and Big Bird cooperate while trying to reach a model airplane stuck up in a tree.
Oscar is tired of people dumping garbage into his trash can. He makes a sign that says "Dump Garbage Here", with an arrow pointing at a can nearby. He puts the sign on a railing, not realizing that the arrow points to his can.
Ernie and Bert: Bert refuses to share his cookie with Ernie, who tells Bert that if the cookie was his, he wouldn't mind sharing. Ernie takes the cookie, and asks Bert to ask him if he would share it. (EKA: Episode 0592)
Film: A gymnast demonstrates 'slow.'