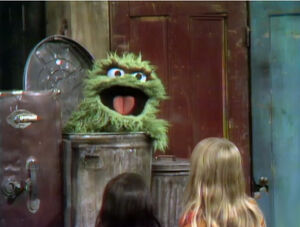 Loud crashes and bangs are coming from inside Oscar's trash can. Luis and Susan ask what's going on, and Oscar says that he's making something he likes... noise.
Oscar invents a noise machine; everyone else hates it.
Little Bird plays an imagination game, closing his eyes and imagining he hears sounds. At the end of the game, he imagines he hears a scary monster -- and when he opens his eyes, Herry Monster is there, growling at him. (EKA: Episode 0198)
When some kids invite Oscar to play with them, Oscar answers by singing "I Don't Wanna."
Susan plays the sorting game using dotted cards.
In the desert, Luis desperately searches for agua, but all the pumps are dry. (EKA: Episode 0680)