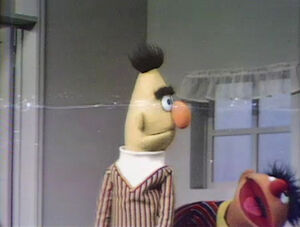 Ernie and Bert: Ernie keeps taking glasses of water outside the apartment. Bert thinks of possible uses Ernie could have for this water. As it turns out, the kitchen faucet is broken, and Ernie's trying to get rid of the water before the apartment floods. (EKA: Episode 0669)
Susan, Big Bird and some kids play a body game. Susan says a word that rhymes with a part of the body, and the kids name the part that rhymes.
Cartoon: A race announcer doubles as the man who holds up the START and STOP sign.
Grover helps Kermit show the number 5 using blocks, but Grover doesn't know how many to get (he can't count to 5). Kermit has him go back and forth bringing one until there is five. (First: Episode 0476)
Ad blocker interference detected!
Wikia is a free-to-use site that makes money from advertising. We have a modified experience for viewers using ad blockers

Wikia is not accessible if you've made further modifications. Remove the custom ad blocker rule(s) and the page will load as expected.