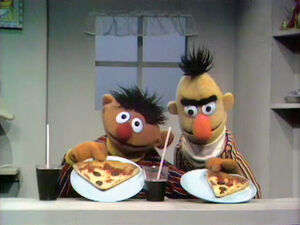 Big Bird's drum doesn't make a sound because it doesn't have skins.
Big Bird finishes his drum, but after hearing Luis play the guitar, he decides to make a guitar instead.
Ernie and Bert: Ernie has a so-called "magic" chain which can form into any shape he wants. Bert is dismissive of the chain's magic properties. And yet, when Bert asks for the chain to provide a sandwich, it does. (EKA: Episode 0680)
Ernie and Bert: Ernie and Bert have pizza and grape juice. Bert complains that Ernie has more of each, so Ernie tries to make it even by eating some of his pizza and drinking some of his grape juice, but then Bert has more. And so on. (EKA: Episode 0294)
Cartoon: Four people cooperate building a table.
Ad blocker interference detected!
Wikia is a free-to-use site that makes money from advertising. We have a modified experience for viewers using ad blockers

Wikia is not accessible if you've made further modifications. Remove the custom ad blocker rule(s) and the page will load as expected.