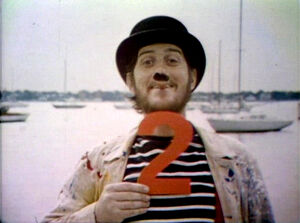 Luis insists that Herry Monster eat his breakfast, but Herry would rather build something. He becomes so impatient about building something that he gets angry when he sees Luis eating his breakfast slowly.
Susan invites Herry to play a sorting game using a book, a newspaper, a magazine, and a bowl of cereal. Herry becomes very angry when he sees the bowl. He thinks the whole thing is a trick to get him to eat his cereal.
The Count looks down, while counting his footsteps. Susan tells him that he can miss all the great things going on if he looks down. When the Count says that counting footsteps is great, Susan sings "Nearly Missed".
A Muppet demonstrates bigger and bigger circles and small and smaller circles. (EKA: Episode 0320)
Ad blocker interference detected!
Wikia is a free-to-use site that makes money from advertising. We have a modified experience for viewers using ad blockers

Wikia is not accessible if you've made further modifications. Remove the custom ad blocker rule(s) and the page will load as expected.