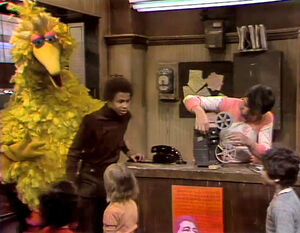 Ernie and Bert: Ernie gets Bert to play a game with him, in which he says "I one the sandbox", Bert says "I two the sandbox", and so on until Bert gets to "I eight the sandbox." "You ate the sandbox? How'd it taste?" Ernie asks. (First: Episode 0019)
Luis repairs a film projector, which he uses to play some of Big Bird's home movies for the kids. It shows scenes with Big Bird and Maria and Luis, but the malfunctioning projector causes the footage to go forwards and backwards. (EKA: Episode 0700)
Cartoon: A shoemaker shows how he measures (human) feet with his ruler.
An Anything Muppet boy teaches "forward" and "backward" with a group of Muppet kids, hippies, and Grover who keep running over the boy when his back is turned. (First: Episode 0069)
Ad blocker interference detected!
Wikia is a free-to-use site that makes money from advertising. We have a modified experience for viewers using ad blockers

Wikia is not accessible if you've made further modifications. Remove the custom ad blocker rule(s) and the page will load as expected.