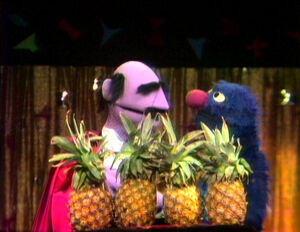 Big Bird organizes a rhyming show. The Prince he presents to his audience fails to find rhyming words and is told to leave the stage.
Ernie and Bert: Ernie has a so-called "magic" chain which can form into any shape he wants. Bert is dismissive of the chain's magic properties. And yet, when Bert asks for the chain to provide a sandwich, it does. (EKA: Episode 0680)
Film: A baby chick hatches from an egg.
Farley looks for his lost toy box.
Notes
Ad blocker interference detected!
Wikia is a free-to-use site that makes money from advertising. We have a modified experience for viewers using ad blockers

Wikia is not accessible if you've made further modifications. Remove the custom ad blocker rule(s) and the page will load as expected.