Ad blocker interference detected!
Wikia is a free-to-use site that makes money from advertising. We have a modified experience for viewers using ad blockers

Wikia is not accessible if you've made further modifications. Remove the custom ad blocker rule(s) and the page will load as expected.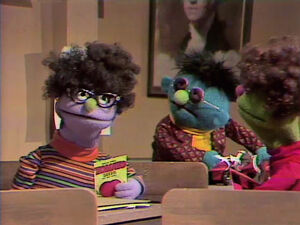 The Count is bored because he has nothing to count, but suddenly he notices an ant on the table. He figures the ant is going home to meet millions of ants, and he follows it. Counting millions of ants would be a week's worth for the Count.
Ernie and Bert: Ernie comes from finishing his bath, and tells Bert that there's something that he forgot. Bert asks if he's washed behind his ears, his neck, and his elbows. Finally, Ernie remembers that he forgot to turn off the water in the tub -- as the water level rises. (First: Episode 0277)
While the Count waits for the ant he's been following to reappear, a sandwich Big Bird has given him starts to move. It's being carried by lots of ants.
Bert refuses to share his cookie with Ernie, who tells Bert that if the cookie was his, he wouldn't mind sharing. Ernie takes the cookie, and asks Bert to ask him if he would share it. (EKA: Episode 0592)
Bert has acquired some drums, but he doesn't know how to play them well. Ernie teaches him how to make drum playing exciting. (EKA: Episode 0684)