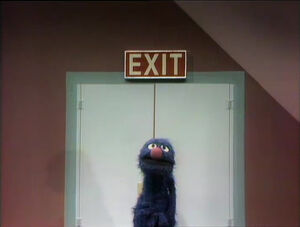 Cookie Monster wears a blindfold and asks Susan to hide a cookie. His nose is stuffed up, so he tries to find the cookie by touch. He mistakes a tricycle wheel for a cookie, but he realizes it's not a cookie when he takes a bite.
Big Bird writes a poem about getting wet.
Harvey Kneeslapper, Luis and two friends play the sorting game. Harvey is singled out, as he's the only laughing at his jokes.
"Sluggo the Great" (David) puts on his baseball gear, but isn't sure which body parts to put them on.