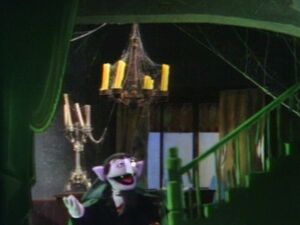 Kermit at Home: Grover is outside in the snow, freezing. He keeps knocking on Kermit's door, asking how to get warm, and Kermit keeps telling him to come inside. Grover, missing the point, tries ideas of his own to get warm, but they don't work. Finally, Kermit tells Grover that if he wants to get warm, he should come inside. Excited, Grover pulls Kermit aside and slams the door, locking Kermit outside. Grover goes to sleep in Kermit's armchair while the frozen frog scrapes at the window. (EKA: Episode 0598)
Pete Seeger, Big Bird and the Kids sing "Cottage in the Woods".
Pete Seeger borrows a basket, chair legs and a sandbox from Oscar, and distributes them among the cast and the kids to play a rhythm. Pete plays "Proud Mary" on his guitar.
Ernie has a bag of cookies, and locks them in a safe to protect them from Cookie Monster. When the monster discovers that the cookies are locked up tight, he eats the safe. (EKA: Episode 0680)
Ernie eats one of Bert's cookies, and doesn't know what to tell him. Bert observes that there are four cookies when there should be five. No matter how Ernie arranges them, there are still four cookies. Since Bert doesn't want to see four cookies, Ernie eats another one, making it three instead of four. (EKA: Episode 0238)
Ad blocker interference detected!
Wikia is a free-to-use site that makes money from advertising. We have a modified experience for viewers using ad blockers

Wikia is not accessible if you've made further modifications. Remove the custom ad blocker rule(s) and the page will load as expected.