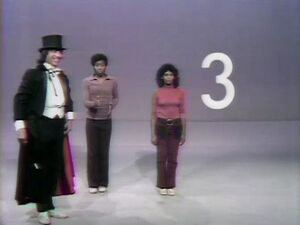 The Count visits Mr. Hooper to see if he can find something to count, but Mr. Hooper doesn't have more than five of anything. Mr. Hooper suggests that he just count, but the Count says that he would never count without having something to count.
When Big Bird doesn't find any wind to fly his kite, he asks Mr. Snuffleupagus to blow some wind for him. It works until Snuffy is all puffed out.
Ernie and Bert: Ernie is painting a portrait of Bert, but paints Bert with curly hair, glasses and a beard. When Bert gets angry about this, Ernie takes him behind the easel and puts curly hair, glasses and a beard on Bert. (EKA: Episode 0683)
Cartoon: A boy gets lost, and encounters a man with a yo-yo, who tells him to remember everything he passed. (EKA: Episode 0668)
Film: A trip to the doctor's office.
Maria and Big Bird sort books by size.
Ad blocker interference detected!
Wikia is a free-to-use site that makes money from advertising. We have a modified experience for viewers using ad blockers

Wikia is not accessible if you've made further modifications. Remove the custom ad blocker rule(s) and the page will load as expected.