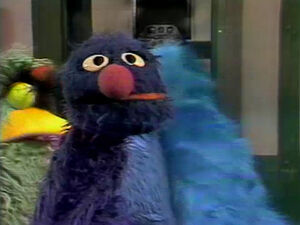 Herry Monster gets a box of bricks as a gift from Susan, Luis and Bob -- just what he wanted. He invites everybody to play with his bricks, and starts tossing the pile of bricks to the cast.
Ernie and Bert: Ernie has gone shopping. He buys bread for himself, and peanut butter for Bert. After deciding that it's dull to eat what they have separately, they decide to cooperate, so they can each have a peanut butter sandwich. (EKA: Episode 0330)
Grover demonstrates how to use a telephone booth -- but it gets crowded when he receives a call for "Mondipoorg". (EKA: Episode 0675)
Herry invites Oscar to play with his bricks, but Oscar refuses -- Grouches don't play, because it's too much fun. When Oscar tells Herry to play by himself, Herry decides to build a brick wall around Oscar's trash can.
When Maurice, a hapless casanova, puts an Pumpkin Anything Muppet woman's head together, he tells her that he loves her, but it turns out she doesn't love him. He then proceeds to take her head apart, bit by bit, as he sings "I Want to Hold Your Ear" (as well as eyes, nose, tooth, and hair). After she walks off in a huff, he notices to his shock that the parts he set aside have attached themselves to the tablecloth, who thinks he's kinda cute. (EKA: Episode 0680)
After trying to figure out what else to do with his bricks, Herry decides to pretend that he's Cookie Monster and the bricks are cookies. He finds out the bricks taste pretty good.
The Martians discover a grandfather clock and wonder if it's an earth person. They consult their book, which says an earth person is tall, has a face, and has hands. The clock fits the description perfectly! (First: Episode 0407)