Sesame Street
Plot
Sam the Machine demonstrates some and more.
Air date
January 31, 1975
Season
Season 6 (1974-1975)
Sponsors
Y, 11

This episode guide has been compiled from materials at the CTW Archives.

ⓘ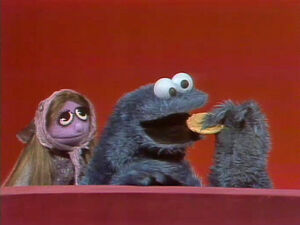 Cookie Monster: Cookie Monster is about to eat a cookie when a sad-looking girl approaches and stares at him. He tries to eat the cookie, but can't do it. He breaks the cookie in half and shares it with the girl. He eats his half of the cookie. When the girl eats her half, she eats it just like Cookie Monster.
Cookie Monster and Ernie: Ernie tries to find another cookie with a criss-cross of icing. He has trouble matching cookies, but Cookie knows a better way to match them.
Ernie and Bert: Ernie eats one of the two pieces of chocolate cake that Bert was saving for their dessert. Bert sees Ernie holding a fork in one hand and a napkin with some chocolate on it in the other--and in front of him is a plate full of chocolate-cake crumbs. When Bert accuses Ernie of eating the cake, Ernie tells Bert that a monster came in, ate Bert's cake, and framed Ernie. Bert doesn't believe Ernie's lie. But when Bert leaves the room, Beautiful Day Monster comes in and does exactly what Ernie told Bert happened to the first piece. Ernie tries to explain, but Bert says, "I don't want to talk about it." (First: Episode 0119)
Hubley animation: A bully won't give the kids' baseball back. The boy imagines a few scenarios before ultimately calling for his dog. (EKA: Episode 0235)