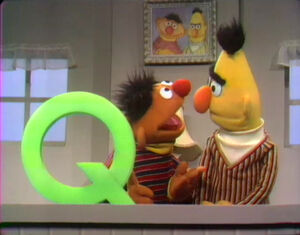 A bird friend leaves her egg in the care of Big Bird. The egg hatches and Big Bird tries to teach the baby bird some grown-up things, but everything goes wrong.
Ernie and Bert: Ernie asks Bert to play a game where they take turns counting and then saying "Q". Ernie goes first with "1 Q", and Bert follows with "2 Q". The game continues, until Bert gets to "10 Q". "You're welcome, Bert!" Ernie says. (EKA: Episode 0598)
Ernie and Bert: Ernie gets emotional during a movie: first he's scared, then sad, then happy. His reactions bother the other moviegoers, and the scene ends in chaos. (EKA: Episode 0666)
Notes
This episode's plot is repeated in Episode 0982.