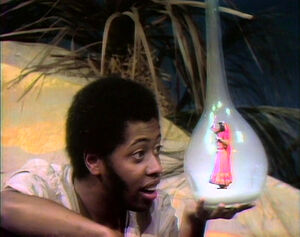 Ernie and Bert: Ernie wants to show Bert his ice cube collection, however, they were too cold so he put them in a box covered with an electric blanket. Much to Ernie's surprise, the ice cubes have disappeared. Since they were replaced with water, Ernie suspects that a fish might have stolen them. Bert tells him that it's because they've melted. Ernie, however, is now convinced that a fish melted the ice cubes, and angrily walks out the door, threatening to "tear him fin-from-fin." (First: Episode 0033)
Big Bird borrows most of the ingredients he needs to bake birdseed cookies from Maria.
Big Bird gives a birdseed cookie to everyone on Sesame Street.
Luis classifies by class using some wheels.
Luis tries to open a door marked with a "CERRADO" sign. He gets a running start, when Maria changes the sign to read "ABIERTO." She opens the door and Luis runs right through it, crashing. (EKA: Episode 0702)
Cartoon: "Imagination O" -- A surreal story about a boy, a goat, and a bulldozer that closes up a hole in a cloud that blows the cold. (First: Episode 0011)
Ad blocker interference detected!
Wikia is a free-to-use site that makes money from advertising. We have a modified experience for viewers using ad blockers

Wikia is not accessible if you've made further modifications. Remove the custom ad blocker rule(s) and the page will load as expected.