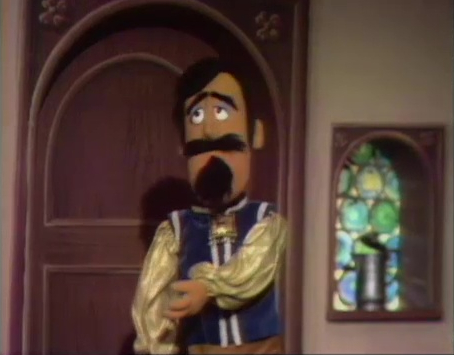 David asks Cookie Monster to watch Hooper's Store for him, but makes him promise that he won't eat all the cookies. Cookie Monster promises that he won't eat any cookies...but he gets hungry, and eats the cash register.
Using a toaster, an electric mixer, a frying pan and a display case full of cookies, Cookie Monster sorts them by function...and ends up eating the appliances.
Trying to take his mind off cookies, Cookie Monster counts stools in the store. He then eats them.
Having eaten the cash register, appliances and stools, Cookie Monster proceeds to eat everything else he can find in the store. He tells David that he's kept his promise -- the cookies are untouched.
The Amazing Mumford: Grover volunteers to assist Mumford in his rhyming magic trick, making three things come out of his hat that rhyme with knee. Grover guesses the first one, but misses the others.