Sesame Street
Plot
The Muppets express themselves using pencils.
Air date
January 17, 1975
Season
Season 6 (1974-1975)
Sponsors
E, Z, 12

This episode guide has been compiled from materials at the CTW Archives.

ⓘ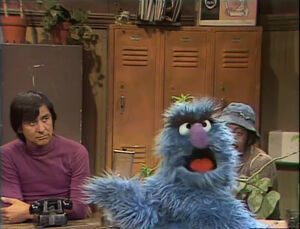 Big Bird introduces the pencil as a marvel of the 20th century.
Ernie and Bert: Ernie imagines what life would be like if he and Bert had their characteristics switched around.
Waiter Grover opens a menu and shows Mr. Johnson a large picture of the special sandwich, which comes with potato chips on the side, a pickle on the top, and olive stuck in with a toothpick. When the sandwich arrives, Mr. Johnson complains that it doesn't match the picture on the menu -- it doesn't have potato chips, a pickle or an olive. (EKA: Episode 0332)
Herry has written a song using a pencil that Big Bird has given him. The song is called "I Can't Help It."
Biff has written a poem about tools with his pencil.
Oscar asks Luis if he can borrow his pencil, at least the eraser part of it. Oscar shows Luis (to his amusement) the different things he can do with the eraser. He erases a newspaper ---eliminating all the good news, and keeping the bad news intact--- and then the numbers off of an alarm clock, to which Luis asks Oscar how he's going to be able to tell time now; Oscar explains that that's the point. Oscar then shows Luis the Grouch alphabet, which consists of no letters, as he's erased them all. Eventually, as Oscar carries on, he ends up erasing himself and Luis off the screen.