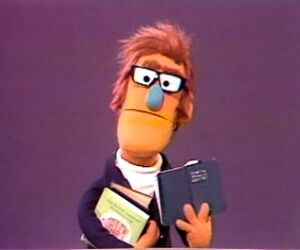 Susan and Maria each ask for a bowl of cornflakes at Hooper's Store, where The Count is helping out. To make sure Susan and Maria get exactly the same amount, the Count counts each flake.
Two kids order milk at Hooper's Store, and the Count counts out drops of milk for them with an eyedropper.
Grover is astonished to find that he's multiplied into four Grovers.
Biff says it's important to be able to tell the difference between your toolbox and your lunchbox, so you don't take the wrong box when the twelve o'clock whistle blows.
An Anything Muppet boy and girl share a bag of jellybeans, but they're scared away by a monster. They make friends with the monster, and share the jellybeans with him. (First: Episode 0016)
Ernie & Bert — Bert expects a visit from his identical twin brother Bart. Ernie notes that they're alike in many ways, but their major difference is that Bart has a sense of humor. (EKA: Episode 0687)