Episode 0714
Talk

0
26,853pages on
this wiki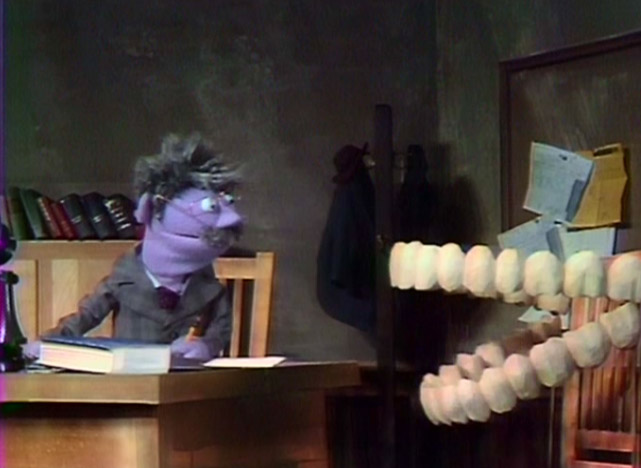 Oscar plays horrible sounds on his tape recorder; Mr. Hooper says that Oscar is producing noise pollution.
Mr. Hooper thinks that nobody is coming to his store for lunch because Big Bird's food is terrible, but Big Bird insists that it's because of all the noise Luis is making while working.
Maria, Mr. Hooper, Luis and Oscar share a newspaper by each reading a different section.
Teeth visits an employment agency to find a job. He can't take the proposed jobs of smelling and listening, but he knows a nose and an ear that can. When asked what he does well, Teeth says that he can bite and chew things. He demonstrates by chomping up the desk. (EKA: Episode 0406)
Grover volunteers to assist the Amazing Mumford in his suspension act. Grover will get on top of a platform, and Mumford will pull the pillar off from underneath, and the platform will not fall. The trick works, so Grover decides to try it himself, with Herry Monster as his assistant. Grover can't pull it off, and Herry falls. (EKA: Episode 0332)