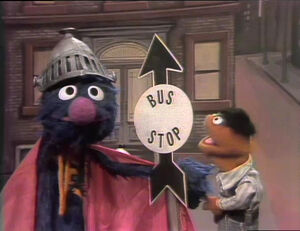 Big Bird is first and Mr. Snuffleupagus is last in every game they play together. Big Bird invents a hiding game so Snuffleupagus can win.
Sam the Machine tries to put a baby to sleep by singing a lullaby he uses with machines.
Ernie and Bert: Bert complains when a big letter H appears on the TV screen, so Ernie turns off the set, unplugs it, and takes a bunch of H objects out of the TV (including a hat, a house and a hamster). When he plugs it back in, a big letter I appears on the screen. Ernie wants to try fixing the TV again, but Bert tells him not to -- this is a great show. (EKA: Episode 0656)
Super Grover: A boy is confused -- his mother told him to take a bus home, but he doesn't know where to find the bus. Super Grover arrives, and they soon discover a sign that says "Bus Stop". The boy suggests that they found the answer, but Super Grover insists that his mother told him to take a bus, and not a sign, home.