Sesame Street
Plot
Grover recycles newspapers and magazines.
Air date
December 27, 1974
Season
Season 6 (1974-1975)
Sponsors
B, 8

This episode guide has been compiled from materials at the CTW Archives.

ⓘ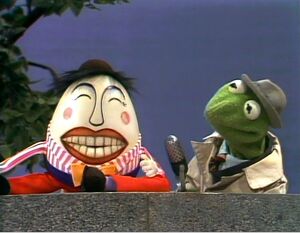 Sesame Street News Flash: Humpty Dumpty has fallen off a wall, and Kermit interviews one of the king's horses. Humpty is put together again, but then Kermit gives him a congratulatory slap on the back, and he falls off the wall again.
Four Muppets cooperate to grow a flower together. One has a flower seed, one has a flower pot, one has some dirt, and one has a shovel. The rain and sunshine finish the job. (EKA: Episode 0311)
Ernie & Bert — Bert asks Ernie about his day. Ernie doesn't think anything interesting happened. Bert points out that Ernie went to the zoo, but Ernie says nothing interesting happened at the zoo. Then he talks about a scratch he got on his finger, and talks about how he got it, realizing in the process that something interesting did happen after all. (First: Episode 0020)
Maria bakes a loaf of bread in the shape of the letter B.
Waiter Grover: Mr. Johnson wants a hamburger. The restaurant offers two sizes: the big hamburgers and the small hamburgers. When the small hamburgers are too small, he orders a big one, but because there have been some problems with the big hamburger, Grover tries to convince him to order several small ones. Mr. Johnson finally loses his patience and demands his large hamburger. Grover winds up delivering a colossal-sized hamburger that he is barely able to carry; the burger is so huge that he crashes through the doors and adjacent walls, causing damage.
Ernie & Bert — Ernie comes home to a sleeping Bert and tries to think of things to do that won't wake him up. He can't watch TV, and he can't play with his ball. Bored, he decides to take a nap too -- but then he starts to snore. This awakens Bert, who wonders out loud where the noise is coming from, in the process arousing Ernie, who gets mad at being woken up. (First: Episode 0280)
Grover tries to scare people on Sesame Street, but fails.