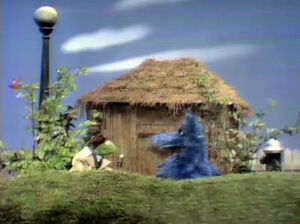 Waiter Grover: Mr. Johnson wants a bowl of hot alphabet soup, and he really wants it to be hot. He looks to make sure that each letter of the alphabet is in his soup, but he is missing some. By the time Grover brings in every last letter, the soup is cold. (First: Episode 0276)
Ernie and Bert: Ernie stacks cups and saucers in order to count them, making Bert quite nervous. Luckily, they're glued together. (EKA: Episode 0677)
Bob sorts by class with some construction equipment.
Luis tries to open a door marked with a "CERRADO" sign. He gets a running start, when Maria changes the sign to read "ABIERTO." She opens the door and Luis runs right through it, crashing.
Notes
Sources
↑ Bailey, Joseph. Memoirs of a Muppets Writer, page 155.
Ad blocker interference detected!
Wikia is a free-to-use site that makes money from advertising. We have a modified experience for viewers using ad blockers

Wikia is not accessible if you've made further modifications. Remove the custom ad blocker rule(s) and the page will load as expected.