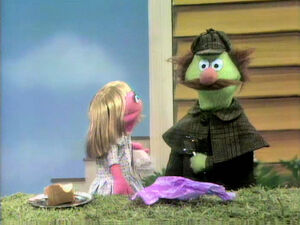 Sherlock Hemlock tries to figure out why there's a terrible mess all over the yard – including horns, paper hats, cake, candles and crumpled-up wrapping paper. He decides that the mess was left over after a Twiddlebug dance. (EKA: Episode 0256)
David and Oscar demonstrate the word quiet.
David tries to sell two sets of books, a four-volume history of the number 4 and a four-volume history of the letter Q.
Ernie and Bert: Ernie and Bert are watching TV, but Bert gets bored and decides to play a record. Ernie tells him to turn down the volume, but Bert won't, so Ernie drowns out Bert's music by playing the radio. Bert then retaliates by turning on the blender. With all four things running at once, they blow a fuse. Bert goes outside to fix the fuse box, while Ernie turns off all the things that were running. Once the lights are back on, they decide to play cards instead of fight. (First: Episode 0003)
Ernie and Bert: Herry Monster holds a sign with the word NO on it, and tells Ernie that he can make him read his sign, to which Ernie replies "Oh no you can't!" When Ernie gets the joke, he tries it on Bert, but the gag backfires on him when Bert bets he can get Ernie to read the sign.