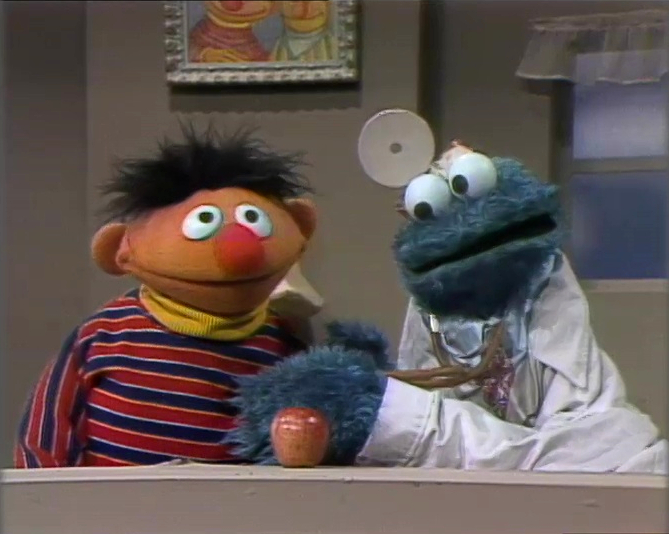 Ernie and Bert: Bert says he's too cold, so Ernie goes overboard to get him warm by putting layer after layer of clothing upon him. This makes him too hot, so Ernie gives him an ice bag, opens the window, and brings his electric fan. (EKA: Episode 0529)
Ernie and Bert: Ernie shows drawings to Bert, and Bert has to guess what happened. Ernie has a drawing of an empty bird cage with an open door (the bird flew away), and a man lying on the ground with a banana peel next to him (he slipped on it). Then Ernie shows Bert an empty page. The answer to that one is that there was a cow eating grass, but the grass is all eaten now and the cow went home. (First: Episode 0031)
Ernie and Bert: Ernie can't decide which of the two different shelves he should place a large vase on, so Bert tells him to use his imagination. Ernie imagines the vase falling off the little shelf and Bert kicking him out of the apartment. Then, Ernie imagines putting the vase on the big shelf, and Bert rewarding him with a big surprise party. (EKA: Episode 0310)
Cookie Monster and Ernie: Cookie Monster asks Ernie if he has any cookies. Ernie says that he doesn't have any cookies but does have an apple and that he can't give the apple to Cookie because "an apple a day keeps the doctor away." Later Cookie Monster comes disguised as Doctor Monster and gives Ernie a medical checkup. After the checkup, Ernie asks what he owes Doctor Monster. By sheer coincidence, his bill is one apple.
David, who's just been paid and given the day off, would like someone to go with him to the movies. Everybody refuses because they have business to attend to.
A little Anything Muppet boy explains how he can be a son, a brother, a paperboy, a friend and a grandson all at the same time.
Ad blocker interference detected!
Wikia is a free-to-use site that makes money from advertising. We have a modified experience for viewers using ad blockers

Wikia is not accessible if you've made further modifications. Remove the custom ad blocker rule(s) and the page will load as expected.