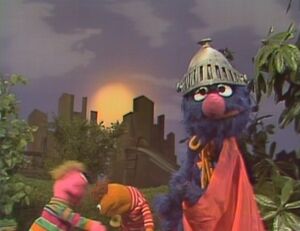 The Count counts seven flowers, and then explains that he loves to count flowers because then he gets to count sneezes. (EKA: Episode 0526)
Bob helps a girl named Jane see how great her name is by finding rhymes for it.
Maria sorts tools and a soda by function.
Luis demonstrates near and far.
Kermit's Lectures: Kermit asks the viewers to play a weather imagination game. First, Kermit imagines it's a warm, sunny day. Then he imagines that it's raining hard. Then he imagines that it's a snowy, windy day. (EKA: Episode 0325)
Two Muppet children, who can only read some words, resolve their fight over a large book by helping each other and reading alternate words. (EKA: Episode 0297)
Film: Kids narrate a tortilla contest in English and Spanish. (EKA: Episode 0573)