Episode 0677
Talk

8
26,853pages on
this wiki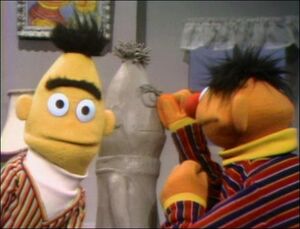 Big Bird is going on vacation, but he carries an empty suitcase -- because on his vacation, he needs nothing but a good rest.
Grover Sketches: At night, Grover thinks he hears noises in the dark. When he sees a shadow on the wall, he cowers under the covers - but the shadow turns out to be his Mommy.
Sesame Street News Flash: Kermit meets Little Miss Muffet, who sits on her water bed, eats crunchy granola, and is not afraid of the spider, who ends up chasing Kermit away.
Grover and Ernie sing about fear.
Ernie and Bert: Ernie makes a clay bust of Bert, but runs out of clay for the nose, so he pulls Bert's nose off and puts it on the statue.
Ernie and Bert: Ernie stacks cups and saucers in order to count them, making Bert quite nervous. Luckily, they're glued together.