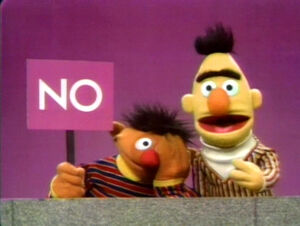 Big Bird imagines that he's living one hundred years ago. He plays the roles of Bad Bird, the fastest wing in the west, as well as Sheriff Matt Bird.
Oscar is jealous because all Maria talks about is David.
Oscar opens an argument boutique where he sells arguments for a nickel.
David sings the Sorting Song.
Herry Monster holds a sign with the word "NO" on it, and tells Ernie that he can make him read it, to which he replies "Oh no you can't!" When he gets the joke, he tries it on Bert, but the gag backfires on him when he bets he can get Ernie to read it.
Ernie says that he has "flying fingers," and tries to find ten different things that his fingers can do.
Notes