Episode 0675
Talk

0
27,715pages on
this wiki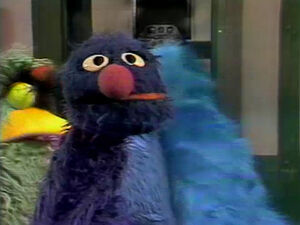 Ernie and Bert: Ernie comes home to a sleeping Bert and tries to think of things to do that won't wake him up. He can't watch TV, and he can't play with his ball. Bored, he decides to take a nap too -- but then he starts to snore. This awakens Bert, who wonders out loud where the noise is coming from, in the process arousing Ernie, who gets mad at being woken up. (EKA: Episode 0280)
Old West sketches: Bad Bart is looking for Marshal Earp to give her a big surprise. The terrified townspeople try to warn Marshal Earp -- but Bad Bart explains that a surprise is something that someone doesn't expect. He orders them not to say a word. It turns out the big surprise is a cake for Marshal Earp's birthday.
Grover demonstrates how to use a telephone booth -- but it gets crowded when he receives a call for "Mondipoorg".
Oscar is very angry because people bother him when he's practicing the piano.