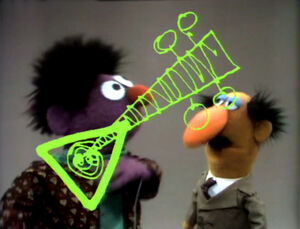 Sesame Street News Flash: Kermit interviews a servant who tells him that the queen wants to test the maiden by placing a cookie under the mattresses to see if she can feel it. The "princess" (Cookie Monster) lies down, feels something, then devours the mattresses.
Ernie is very sad and angry when he finds out that somebody has broken his Rubber Duckie's squeaker. Luis fixes it, which makes Ernie happy.
Bob protests Oscar's insults, and asks him to put himself in Bob's place. Oscar asks Bob to put himself in his place, and invites Bob into his trash can. He later exits the can, looking worse for the wear.
David sorts by class using an airplane, ocean liner, motorcycle, train and piano.
Film: Things you can carry
Notes
Ad blocker interference detected!
Wikia is a free-to-use site that makes money from advertising. We have a modified experience for viewers using ad blockers

Wikia is not accessible if you've made further modifications. Remove the custom ad blocker rule(s) and the page will load as expected.