Sesame Street
Plot
Big Bird tries to leave a trail of bread crumbs so he won't get lost.
Air date
November 8, 1974
Season
Season 6 (1974-1975)
Sponsors
G, R, 6

This episode guide has been compiled from materials at the CTW Archives.

ⓘ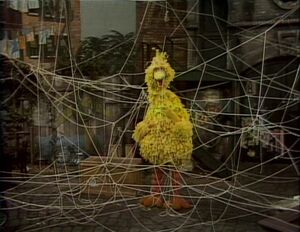 In a circus routine, Luis the ringmaster demonstrates "before" and "after". Freeze-frame technology allows his assistant, Linda, to show each action as she jumps through a hoop, slips on a banana peel, and gets a bucket of water thrown at her face.
Big Bird leaves a trail of bread crumbs behind him so he can't get lost on his way home from Hooper's Store, but the crumbs disappear.
After trying to leave trails of rocks and paper behind him, which also disappear, Big Bird decides to tie one end of a string to his nest and the other end to his wrist. Eventually, the entire street looks like a spider's web.
Notes