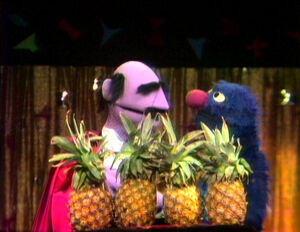 Big Bird misses his grandmother, so Sam the Machine tries to cheer him up by playing his grandmother. It doesn't work out. Sam practices his grandmothering skills with Oscar, and then with Maria, but he makes the same mistakes. Finally, a lonely vacuum cleaner asks Sam to pretend to be its grandmother.
The Count uses beans in jars to sort by quantity.
Ernie and Bert: Ernie keeps taking glasses of water outside the apartment. Bert thinks of possible uses Ernie could have for this water. As it turns out, the kitchen faucet is broken, and Ernie's trying to get rid of the water before the apartment floods.
Simon Soundman has the viewers guess what sound he is making. He makes the sound of a train, car, and a horse. When Simon makes the sound of the horse, a cowboy uses his lasso to capture Simon, mistaking him for a real horse. (EKA: Episode 0294)